Trial of Strength: Adventures and misadventures on the wild and remote subantarctic islands (Hardcover)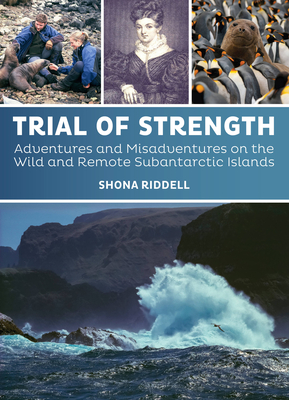 $29.99
Email or call for price.
Description
---
The world's sub-Antarctic islands are brutally cold, uninhabited, bleak and beautiful outposts circling the lower part of the globe. They sit below New Zealand, Australia, Africa and South America, in the 'Roaring Forties' and 'Furious Fifties' latitudes. They are constantly buffeted by lashing rain and furious gales, surrounded by a deep and roaring ocean. And yet, humans have not been deterred from these islands which are so fully in the grip of nature's power.

From early explorers and sealers to modern-day conservation and adventure tourism, the sub-Antarctic islands have been a common waypoint for those headed to Antarctica, and for scientists discovering the unique plants and wildlife that have earned the islands status as World Heritage sites. Shona Riddell herself is a descendant of 19th-century British settlers who attempted to create a home in this environment. She hopes to shed light on these 'forgotten islands' and their rich human history.

Trial of Strength is filled with compelling photos for a modern audience. Balanced and engaging, it features tales of infamous shipwrecks and lesser-known stories of intrepid pioneers, as well as accounts of modern-day conservation wins and dramatic helicopter rescues, all with women's stories as more than just a footnote. It will leave you with an appreciation for the tenacity of the human race and the forbidding forces of nature.
About the Author
---
Shona Riddell is the great-great granddaughter of Harriet Cripps, who was born to two British colonists on the remote Auckland Islands in 1851. In 2016, Shona sailed south to experience the wild sub-Antarctic climate for herself. Shona has worked as an English teacher in Germany, and has a Graduate Diploma in Journalism. She has been published in a variety of publications, including the NZ Herald and the Otago Daily Times, on topics from book reviews to her personal experiences. Her first book was published in 2014, a children's book called The Tale of the Anzac Tortoise (Exisle Publishing). Trial of Strength is her second book, and she is now working on her third, which will also involve history and remote locations. Shona has lived in London and Berlin, got married in Las Vegas, and currently lives in Wellington, New Zealand, with her husband and two daughters.
Praise For…
---
The subantarctic islands circle the lower part of the globe, below New Zealand, Australia, Africa, and South America, between 47° and 60° latitude south of the Equator. They are filled with unique plants and wildlife, constantly battered by lashing rain and furious gales, and have a rich and fascinating human history. Trial of Strength tells the compelling stories of these islands and will leave you with an appreciation for the tenacity of humanity and the forbidding forces of nature.—Australian Wildlife Magazine