The Professor (Paperback)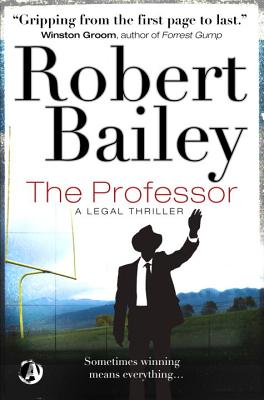 Special Order -- Email or Call for Availability
Description
---
A retired Professor of Law who hasn t tried a real case in forty years teams up with a former student who's yet to trial a case at all, in order to clear both of their names
"The Professor"introduces Thomas Jackson McMurtrie, a longtime lawprofessorattheUniversity of Alabama, who, 40 years after giving up a promising career as a trial lawyer to teach law students atthe request of his mentor, Coach Paul Bear Bryant, retires to his farm an angry and bitter man, betrayed by both a Board member he mistook for a friend and his own failing health. Meanwhile, theyoung family of one of Tom's oldest friends is killed in a tragic collision with an 18-wheeler.
Believing his career is over, Tom refers his friend to a brilliant, yet beleaguered, former student, Rick Drake, who begins to uncover thatthetruth behindthetragedy is buried in a tangled web of arson, bribery and greed. When a key witness is murdered ontheeve of trial, theyoung attorney, in over his head and attheend of his rope, knows he needs help and there's only one man who can help him.
"The Professor" is the first in a series of tense legal thriller featuring the unusual and compelling legal team of McMurtie & Drake, combining the thrills and authenticity of a John Grisham novel for the audience that flocked to "Friday Night Lights."

About the Author
---
Mr. Bailey is a civil defense trial attorney. He represents health care providers and nursing homes in medical liability cases. He defends trucking companies, insurance carriers, the insured, and businesses in injury-related lawsuits. He defends employers in workers' compensation lawsuits and has defended employers in actions filed by employees under Title VII, the Age Discrimination in Employment Act, and the Americans With Disabilities Act. He has litigated matters in Alabama state trial courts, federal trial courts, and arbitration.
Praise For…
---
"Taut, page-turning, and smart, The Professor is a legal thriller that will keep readers up late as the twists and turns keep coming. Set in Alabama, it also includes that state's greatest icon, one Coach Bear Bryant. In fact, the Bear gets things going with the energy of an Alabama kickoff to Auburn. Robert Bailey knows his state and he knows his law. He also knows how to write characters that are real, sympathetic, and surprising. If he keeps writing novels this good, he's got quite a literary career before him."  
- Homer Hickam, author of Rocket Boys/October Sky, New York Times Number 1 bestseller.

"The Professor is that rare combination of thrills, chills and heart. Gripping from the first page to the last."
-Winston Groom, author of Forrest Gump

"Robert Bailey is a thriller writer to reckon with. His debut novel has a tight and twisty plot, vivid characters, and a pleasantly down-home sensibility that will remind some readers of adventures in Grisham-land. Luckily, Robert Bailey is an original, and his skill as a writer makes the Alabama setting all his own. The Professor marks the beginning of a very promising career."
- Mark Childress, author of Georgia Bottoms and Crazy in Alabama

Move over, John Grisham. There's a new kid in town, and he's come well armed with a book that grips readers from the first page until the last and leaves them wanting more. "The Professor," a legal thriller by Robert Bailey, will have readers asking, "John who?"
-Loretta Gillepsie, The Decatur Daily