Sister Golden Hair: A Novel (Paperback)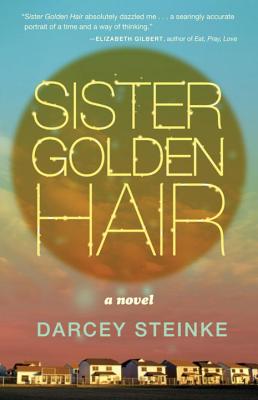 Email or call for price
Special Order -- Email or Call for Availability
Staff Reviews
---
Jesse is a young, bookish girl becoming a teenager in 1970s Roanoke, Virginia, a world where Skynard plays incessantly on the radio and broken families live in new, chintzy duplexes, one step away from poor white trashdom, and children are practically feral. Her father is a defroked preacher, her mother is a self-absorbed whiner, her brother is clueless, and Jesse forms a series of relationships with other girls as feral as she is. Jesse, wonderfully reminiscent of Mick Kelly in The Heart is a Lonely Hunter, accepts life as a trial, but keeps her odd-ball dreams (to be a Playboy bunny, for one) firmly in her sights. This is a very touching and very funny novel, one I highly recommend.
— Lisa
Description
---
It's the summer of 1972 and girlhood has never been more fraught, but Darcy Steinke captures all of it with an intimate, startling grace.
When Jesse's family moves to Roanoke, Virginia, in the summer of 1972, she's twelve years old and already mindful of the schism between innocence and femininity, the gap between childhood and the world of adults. Her father, a former pastor, cycles through spiritual disciplines as quickly as he cycles through jobs. Her mother is chronically dissatisfied, glumly fetishizing the Kennedys and anyone else who symbolizes status and wealth. The residents of the Bent Tree housing development may not seem like beacons of the secret knowledge that Jesse is looking for, but they're all she's got. Her neighbor tans on the front lawn and tells tales of her married lover; her classmate playacts being a Bunny at Hugh Hefner's Playboy Club; the boy she's interested in fantasizes about moving to Hollywood and befriending David Soul. In the midst of her half-understanding, Jesse finds space to set up her room with her secret treasures: a Venus Flytrap, her Cher 45s, and The Big Book of Burial Rites. But outside await new sexual mores, muddled social customs, and confused spirituality. It's a terrifying time—in the shadow of Manson and the hangover from the idealistic sixties—when alienation overtakes liberation. Girlhood has never been more fraught than in Jesse's telling, its expectations threatening to turn at any point into delicious risk, or real danger. Darcey Steinke captures all of this with an intimate, startling grace.
About the Author
---
Darcey Steinke is the author of the memoir Easter Everywhere (a New York Times notable book) and the novels Milk, Jesus Saves, Suicide Blonde, and Up Through the Water (also a New York Times notable book). With Rick Moody, she edited Joyful Noise: The New Testament Revisited. Her books have been translated into ten languages, and her nonfiction has appeared in The New York Times Magazine, the Boston Review, Vogue, Spin, The Washington Post, the Chicago Tribune, and the Guardian. Her web-story "Blindspot" was a part of the 2000 Whitney Biennial. She has been both a Henry Hoyns and a Stegner Fellow and Writer-in-Residence at the University of Mississippi, and has taught at the Columbia University School of the Arts, Barnard, The American University of Paris, and Princeton. She lives in New York City.