Figures of Speech: First Amendment Heroes and Villains (Paperback)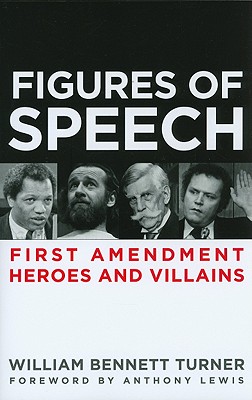 $15.95
Email or call for price.
Description
---
Recounting controversial First Amendment cases from the Red Scare era to Citizens United, William Bennett Turner—a Berkeley law professor who has argued three cases before the Supreme Court—shows how we've arrived at our contemporary understanding of free speech. His strange cast of heroes and villains, some drawn from cases he has litigated, includes Communists, Jehovah's Witnesses, Ku Klux Klansmen, the world's leading pornographer, prison wardens, dogged reporters, federal judges, a computer whiz, and a countercultural comedian. This is a fascinating look at how the scope of our First Amendment freedoms has evolved and the colorful characters behind some of the most important legal decisions of modern times.

"Turner tells fascinating stories of unlikely heroes and explains difficult legal issues clearly and concisely, educating and entertaining at the same time."—Elizabeth Farnsworth, The PBS News Hour
About the Author
---
For the past 29 years, William Bennett Turner has taught course on freedom of speech and the press at the University of California at Berkeley. He has also taught First Amendment courses at OLLI@Berkeley and at the Fromm Institute at the University of San Francisco.

Mr. Turner practiced law for 45 years. As a San Francisco lawyer, he specialized in unusual litigation, including constitutional law. He argued three cases before the United States Supreme Court (including two First Amendment cases) and more than 40 cases in lower appellate courts, and he served as lead counsel in many notable state and federal trials.

He graduated from the Harvard Law School in 1963 and, after a Fulbright fellowship in comparative law, he spent three years with a New York law firm. This was followed by nearly ten years with the NAACP Legal Defense Fund doing civil rights law. He returned to teach at Harvard in 1977. He founded his own law firm in San Francisco in 1978 and served as its senior partner until 1992. He was of counsel to the firm of Rogers Joseph O'Donnell from 1992 to 2008.

Mr. Turner has published more than 40 articles in various magazines, newspapers and law reviews. His work has appeared in the New York Times, Politico, Wired, the San Francisco Chronicle, Harvard Magazine, The Threepenny Review and many other publications. He also served as Legal Affairs Correspondent for KQED television, winning numerous awards for news and documentaries on legal subjects. He was Legal Consultant to the PBS ""We The People"" series on the Bicentennial of the Constitution. He is the author of Figures of Speech: First Amendment Heroes and Villains.
Praise For…
---
"In Figures of Speech, celebrated civil rights attorney Bill Turner has crafted a rare gem: a concise, clearly written book that provides a trenchant introduction to the complexities of First Amendment law as well as riveting, behind-the-scenes accounts of some of the most controversial free-speech cases in American history. Anyone interested in politics, the law, and the future of American democracy should read this important, vigorously argued book."
—Robert Perkinson, Texas Tough: The Rise of America's Prison Empire

"Turner infuses his book with energy and passion for the First Amendment. He tells fascinating stories of unlikely heroes and explains difficult legal issues clearly and concisely, educating and entertaining at the same time."
—Elizabeth Farnsworth, The PBS NewsHour

"William Turner's compelling stories make you want to shout 'Hooray' for the heroes and hiss the villains. And his scholarly history of the First Amendment helps you understand why you are free to run out and do both."
—Elaine Elinson, Wherever There's a Fight: How Runaway Slaves, Suffragists, Immigrants, Strikers, and Poets Shaped Civil Liberties in California

"With these keenly etched portraits of idealists, misfits, and eccentrics, Bill Turner brings the First Amendment alive—just as he has done in the classroom and courtroom for a generation."
—Tom Goldstein, University of California, Berkeley