A Million Heavens (McSweeney's Rectangulars) (Hardcover)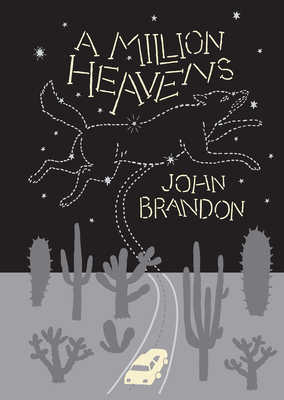 $24.00
Email or call for price.
Description
---
On the top floor of a small hospital, an unlikely piano prodigy lies in a coma, attended to by his gruff, helpless father. Outside the clinic, a motley vigil assembles beneath a reluctant New Mexico winter--strangers in search of answers, a brush with the mystical, or just an escape. To some the boy is a novelty, to others a religion. Just beyond this ragtag circle roams a disconsolate wolf on his nightly rounds, protecting and threatening, learning too much. And above them all, a would-be angel sits captive in a holding cell of the afterlife, finishing the work he began on earth, writing the songs that could free him. This unlikely assortment--a small-town mayor, a vengeful guitarist, all the unseen desert lives--unites to weave a persistently hopeful story of improbable communion. Upon the release of John Brandon's last novel, Citrus County, the New York Times declared that he joins the ranks of writers like Denis Johnson, Joy Williams, Mary Robison and Tom Drury. Now, with A Million Heavens, Brandon brings his deadpan humor and hard-won empathy to a new realm of gritty surrealism--a surprising and exciting turn from one of the best young novelists of our time.
About the Author
---
John Brandon was raised on the Gulf Coast of Florida. His favorite recreational activity is watching college football. This is his third novel.
Praise For…
---
"Wondrous More than once I handed A Million Heavens to a friend and watched the rhythms compel him or her into the thickness of a paragraph, then onto the next page. I had to stop reading to actually pace, marveling at what one writer can imagine, what a novel is capable of holding."
Charles Bock, The New York Times Book Review

John Brandon's novels are choral compositions in the voice of marginal AmericansMr. Brandon channels many influences while always sounding like himself. At his best, which he's at with some frequency here, he writes in a crackling way about small hopes and larger despair. He gravitates to the kind of regional misfits who drew Flannery O'Connor's eye, and his dialogue is snappy and eccentric, like a combination of two masters of the craft, Elmore Leonard and Charles Portis. [His] strengths assured prose, well-timed wisecracks and a convincing crew of pilgrims just waiting for directions are quickly becoming Mr. Brandon's trademarks."
The New York Times

"[John Brandon] deftly renders a desert wilderness where human hearts are compelled to seek isolation from the pains of the world, but tend to find connectedness despite themselves."
Publisher's Weekly

"A surreal exploration of the origin of inspiration, of what connects humans to each other and to their surroundings. ...Brandon's gift for conjuring a powerful sense of place has never been stronger as the high-desert sands invade every nook and cranny of the lives of his characters." Booklist

Brandon deftly orients his readers to the level of his characters by perfectly evoking the everyday emotions, urges, and annoyances that are relatable despite the uncommon situations they are born of."
ZYZZYVA

"'A Million Heavens,' a book that practically shouts from the rooftops its refusal to put on airs, its desire to strip down the prose and get out of its own way. Brandon's unadorned style and disdain for anything fancy' belie what a good (and sometimes fancy) writer he is, as well as how much he loves playing with the reader's expectations, interrupting and upending traditional elements of the novel even as he claims to want to be the deliverer rather than the composer."
Atlanta Journal-Constitution


"John Brandon is a great young writer who can and probably will do just about anything."
San Francisco Chronicle