The Last Taxi Driver (Hardcover)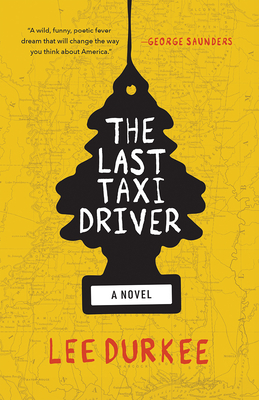 Staff Reviews
---
Lee Durkee's debut novel Rides of the Midway was published in 2001. This funny and affecting Bildungsroman set in Mississippi perfectly captured the 70s. Almost twenty years later, Durkee delivers his sophomore novel The Last Taxi Driver about a pre-Uber driver, Lou, in a small town. In a fever dream of events, Lou shares his philosophy, knowledge and rules for driving. By turns hilarious, angry and sweet, once again Durkee perfectly captures the mood of our time.
— Lyn
Description
---
A Kirkus Best Book of 2020
"A wild, funny, poetic fever dream that will change the way you think about America." —George Saunders
Hailed by George Saunders as "a true original—a wise and wildly talented writer," Lee Durkee takes readers on a high-stakes cab ride through an unforgettable shift. Meet Lou—a lapsed novelist, struggling Buddhist, and UFO fan—who drives for a ramshackle taxi company that operates on the outskirts of a north Mississippi college town. With Uber moving into town and his way of life vanishing, his girlfriend moving out, and his archenemy dispatcher suddenly returning to town on the lam, Lou must finish his bedlam shift by aiding and abetting the host of criminal misfits haunting the back seat of his disintegrating Town Car. Lou is forced to decide how much he can take as a driver, and whether keeping his job is worth madness and heartbreak.
Shedding nuts and bolts, The Last Taxi Driver careens through highways and back roads, from Mississippi to Memphis, as Lou becomes increasingly somnambulant and his fares increasingly eccentric. Equal parts Bukowski and Portis, Durkee's darkly comic novel is a feverish, hilarious, and gritty look at a forgotten America and a man at life's crossroads.
About the Author
---
Lee Durkee is the author of the novel Rides of the Midway. His stories and essays have appeared in Harper's Magazine, The Sun, Best of the Oxford American, Zoetrope: All-Story, Tin House, New England Review, and Mississippi Noir. In 2021, his memoir Stalking Shakespeare will chronicle his decade-long obsession with trying to find lost portraits of William Shakespeare. A former cab driver, he lives in north Mississippi.
Praise For…
---
Disarmingly honest and darkly comic. . . . Beguiling, energetic, razor-sharp prose.
— The New York Times Book Review

Charming as hell.
— WIRED

Raunchy and sweet and, at times, psychedelic.
— Garden & Gun

Remarkable . . . part Denis Johnson-ish carnival of the wrecked, part Nietzschean Twilight of the Gods (or Twilight of the Taxicabs).
— Kirkus, Starred Review

A wild, funny, poetic fever-dream that will change the way you think about America. Durkee is a true original—a wise and wildly talented writer who knows something profound about that special strain of American darkness that comes out of blended paucity, materialism, and addiction—but also, in the joy and honesty and wit of the prose, he offers a way out. I loved this book and felt jangled and inspired and changed by it.
— George Saunders, author of Lincoln in the Bardo

Terrific.
— Tom Franklin, author of Crooked Letter, Crooked Letter

The best book I've read in years.
— Chris Offutt, author of Country Dark

A frenetic, voyeuristic delight.
— Mary Miller, author of Biloxi

A stone cold masterpiece. Haven't felt this way since reading Jesus' Son and Bringing Out the Dead for the first time. Raw, revelatory, honest, full of kindness and anger and sadness and compassion.

— William Boyle, author of City of Margins

For devotees of the offbeat and grit lit writers like Larry Brown and Mary Miller. Follow the air freshener rocking back and forth, taking you under its spell, as Durkee takes you for a ride.
— The A.V. Club

One of the best novels in recent memory. . . . A wild and hilarious ride.
— The Washington Examiner

Much of what makes Lee Durkee's novel so delightful and surprising is his ability to dig beneath the surface of this funny, well-told odyssey, which channels a Shakespearean tragedy. This twenty-year follow up to his debut novel, Rides of the Midway, was worth the wait.

— The Chicago Review of Books

A gonzo ride full of dark humor, philosophical insights, and shrewd observations about the plight of luckless people in the United States.
— Shelf Awareness

The Last Taxi Driver is a road novel . . . rooted firmly in our America. The novel almost makes other fiction in that Southern tradition seem frivolous by comparison.

— Razorcake

The working-class realism of Charles Bukowski with the countercultural flamboyance of Hunter S. Thompson. . . . Yet somehow, the author creates such a vivid likeness of life that readers can't help but feel uplifted. There's beauty in the beastliness. Don't miss this one.
— Luckbox Magazine

The Last Taxi Driver is a Canterbury Tales for our time . . . Decentralized, atomized, and alternately tranquilized and jacked up on cheap beer and meth, this is the world of Beckett, Godard, Robbe-Grillet.

— Full Stop

In Lou, Durkee has created a fascinatingly complex character . . . Durkee tackles race and poverty, violence of many varieties, loss and longing, and the power of the imagination. Lou's excruciating day will make readers cringe, and the recounting of his traumas is more than unsettling. This is a dark, feverish, and weird tale that remains compelling throughout.
— Bookreporter

The funniest writer you've never heard of, but that may change. His 2001 debut, Rides of the Midway, is a 1970s coming-of-age masterpiece . . . Now, nearly twenty years later, at last we have Durkee's second book, his own reboot, and wow is it worth the wait . . . a future Tom Waits vehicle if there ever was one.

— John Freeman, Lit Hub