The Last Taxi Driver (Hardcover)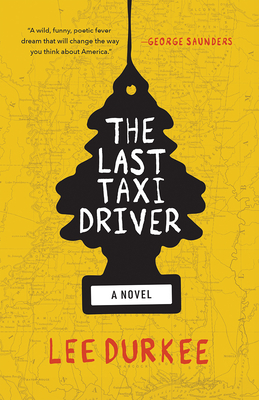 Staff Reviews
---
Lee Durkee's debut novel Rides of the Midway was published in 2001. This funny and affecting Bildungsroman set in Mississippi perfectly captured the 70s. Almost twenty years later, Durkee delivers his sophomore novel The Last Taxi Driver about a pre-Uber driver, Lou, in a small town. In a fever dream of events, Lou shares his philosophy, knowledge and rules for driving. By turns hilarious, angry and sweet, once again Durkee perfectly captures the mood of our time.
— Lyn
Description
---
A Kirkus Best Book of 2020
"A wild, funny, poetic fever-dream that will change the way you think about America." —George Saunders
Written by a former cabbie, The Last Taxi Driver is equal parts Bukowski and Portis, and an homage to a dying American industry.
Written by a former cabbie, The Last Taxi Driver is a darkly comic novel about a middle-aged hackie's daylong descent into madness, heartbreak, and murder. Lou—a lapsed novelist and UFO aficionado—drives 70-hour weeks for a ramshackle taxi company that operates on the outskirts of a north Mississippi college town among the trailer parks and housing projects. With Uber moving into town and his way of life fast vanishing, his girlfriend moving out on him, and his archenemy-dispatcher suddenly returning to the state on the lam, Lou must keep driving his way through a bedlam shift even when that means aiding and abetting the host of criminal misfits haunting the back seat of his Town Car. Shedding nuts and bolts at every turn, The Last Taxi Driver careens through the highways and back roads, from Mississippi to Memphis and back, as Lou becomes increasingly somnambulant and his fares increasingly eccentric. Equal parts Bukowski and Portis, Durkee's novel is an homage to a dying American industry.
About the Author
---
Lee Durkee is the author of the novel Rides of the Midway. His stories and essays have appeared in Harper's Magazine, the Sun, Best of the Oxford American, Zoetrope: All-Story, Tin House, New England Review, and Mississippi Noir. In 2021, his memoir Stalking Shakespeare will chronicle his decade-long obsession with trying to find lost portraits of William Shakespeare. A former cab driver, he lives in north Mississippi.
Praise For…
---
Much of what makes Lee Durkee's novel so delightful and surprising is his ability to dig beneath the surface of this funny, well-told odyssey, which channels a Shakespearean tragedy. This twenty-year follow up to his debut novel, Rides of the Midway, was worth the wait.


For devotees of the offbeat and grit lit writers like Larry Brown and Mary Miller. Follow the air freshener rocking back and forth, taking you under its spell, as Durkee takes you for a ride.

Raunchy and sweet and, at times, psychedelic.

A gonzo ride full of dark humor, philosophical insights and shrewd observations about the plight of luckless people in the United States.

By turns hilarious, angry and sweet, once again Durkee perfectly captures the mood of our time.
— Washington Post, Book Club Newsletter

A wild, funny, poetic fever-dream that will change the way you think about America. Durkee is a true original—a wise and wildly talented writer who knows something profound about that special strain of American darkness that comes out of blended paucity, materialism, and addiction—but also, in the joy and honesty and wit of the prose, he offers a way out. I loved this book and felt jangled and inspired and changed by it.
— George Saunders, author of Lincoln in the Bardo

The Last Taxi Driver is unpredictable, emotionally moving, and laugh-out-loud funny. Lee Durkee writes with honesty and deep insight. This book is filled with compassion. I loved it. The best book I've read in years.

— Chris Offutt, author of Country Dark

This book's a blast! A super-long shift in the
life of a north Mississippi taxi driver makes for hilarious moments as well as
lyrical ones. Durkee's Mississippi is entirely his own as he parades a line of
passengers that are as colorful, sad, and strange as any in literature. A
terrific novel by a terrific writer!
— Tom Franklin, author of Crooked Letter, Crooked Letter

It may be the worst day of Lou Bishoff's life, but The Last Taxi Driver is a frenetic, voyeuristic delight. A Mississippi Buddhist doing his best to be kind, Lou ferries around meth heads and rehab escapees, drives overgrown frat boys to and from drug dens, and wonders at what point he stops being a cab driver and starts being an accomplice. Timely and compulsively readable, Durkee's long-awaited second novel makes me regret how much I've missed by being a (reasonably) sober and compliant passenger.

— Mary Miller, author of Biloxi