Tuesday, November 4, 2014 - 4:00pm
Description
---
In this latest entry in the #1 New York Times-bestselling series, Skippyjon Jones, the Siamese cat that thinks he's a Chihuahua dog, stars in a Snow White-esque fairy tale set in the winter wonderland of his imagination. Includes a bonus CD. Full color.

A LITTLE ABOUT JUDY


"I was the last child and only daughter born to Edward and Mary Francis Byron on August 20th, 1951 in the city of Waltham, Massachusetts. My oldest brother Ted was very good at art and my middle brother Kevin kept me laughing with his funny stories.
Growing up we didn't have much money. My mother was very ill, and to make matters worse, I was extremely shy. All my teachers complained that "Judith needs to speak up in class, Judith needs to improve in arithmetic, and Judith needs to finish her work on time." But no one complained about my artwork. On paper I drew myself a world where mothers were healthy and teachers were kind. My life was perfection in pencil.
In 1969, Massachusetts College of Art accepted me as a student despite my poor SAT scores. I graduated in 1973 with a BFA in illustration and went straight into the greeting card factories which included a stint at Hallmark. For five years I designed cute cards, sad cards, funny cards, and wedding cards. I was not having fun; in fact I never wanted to pick up a paintbrush again.
Then I met my husband, Bob, and for the first time in many years I could step off the 9 to 5 treadmill and devote all my energy to creating a portfolio of children's book art. That was until two little baby girls were born. Then motherhood became my favorite new job.
Over the years I read hundreds of books to my daughters. Inspired by the art and words, I was moved once again to finish my portfolio and take it on the road to New York. That's when I met Lucia Monfried.
The most important relationship in publishing is that of the author/illustrator and her editor. I am most lucky to have Lucia. With her gentle encouragement and wisdom she took me by the hand and helped me accomplish the impossible. In 1995 I not only illustrated my first picture book but I wrote it too. Willy and May was published to wonderful reviews and no one ever suspected my fear of semi-colons.
The great thing about my job is that one day I can be writing about history, as I did in Mr. Emerson's Cook. The next day I'm drawing a wacky old woman for I Know An Old Lady Who Swallowed a Pie. Or I can bring to life a beloved pet cat in my book The Grannyman. I live in a constant state of 3rd grade bliss – making up stories and drawing pictures. Isn't that what we all did as children?
Several years ago the great author Lloyd Alexander stood in my back yard admiring my daughters' Viking ship (that's another story.) Never in my wildest fantasies did I ever think that my art would inhabit his world of words. How the Cat Swallowed Thunder proves that dreams really do come true."
Books: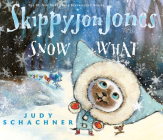 $17.99

ISBN: 9780803737891
Availability: Usually Arrives in Store in 1-5 Days
Published: Dial Books - October 21st, 2014
---