Wednesday, March 28, 2012 - 5:00pm
The Mississippi Delta has been called "the most southern place on earth." This fertile expanse of flat land sprawls along the Mississippi River from Memphis, Tennessee, southward to Vicksburg, Mississippi. Culturally rich as well, the Delta is the land where the blues began.
New Delta Rising
is an exploration of Mississippi Delta life and a celebration of the indefatigable Delta people who live there.Award-winning photographer Magdalena Sole spent a year interviewing and photographing hundreds of residents in the Mississippi Delta. The deep connection she felt comes through in the compelling images in this book. Sole captures their personal dignity, resilience, and resourcefulness, along with the closeness of family and community she found among them. The accompanying text gives voice to the people of the Delta, illuminating their strength and character and spirit---a spirit bound up in a deeply rooted sense of place and shown in their compassion for one another. In their stories the people of the Delta have much to offer to the rest of the United States.
Rick Bragg
, the acclaimed author of
All Over but the Shoutin',
contributes to the volume a lyrical essays evoking the distinctive aura of the Mississippi Delta. He writes, "Myth and magic and legend swirl into the real world, and it can be hard to tell where one stops and the other begins."
Books: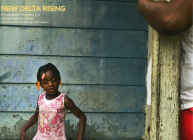 $38.00
Email or call for price.
ISBN: 9781617031502
Published: University Press of Mississippi - December 19th, 2011
---