Thursday, June 12, 2014 - 5:00pm
The Mississippi Delta is known for many things. It is a land of stark contrast, in which rich soil produces an agricultural bounty as well as fearsome economic want. The Delta has compelled generations of writers, musicians, and artists to chronicle and engage its harsh and mysterious beauty. Seen through the penetrating lens of noted photographer Maude Schuyler Clay, the nearly deserted buildings and landscapes of the Delta are brought to life by the dogs that roam the wide fields and swamp-soaked shadows.
For the past fifteen years, Clay has been driving the back roads photographing her native Delta. In the darkroom of her hundred-year-old family homestead in Sumner, Mississippi, she has developed hundreds of images of eroding architecture, misty bayous, small stands of woods, endless rows of crops. And dogs. Clay has spotted and captured the elemental spirit of dogs eking out existences from this majestic landscape. In her iconic book Delta Land, Clay
introduced the "Dog in the Fog," the muscular lab standing watch in the mist and trees of Cassidy Bayou. This photo became widely recognized, and Clay wanted to further explore the relationship between the land and the numerous dogs populating its fields, bayous, and abandoned spaces.
This new book, Delta Dogs, celebrates the canines who roam this most storied corner of Mississippi. Some of Clay's photographs feature lone dogs dwarfed by kudzu-choked trees and hidden among the brambles adjacent to plowed fields. In others, dogs travel in amiable packs, trotting toward a shared but mysterious adventure. Her Delta dogs are by turns soulful, eager, wary, resigned, menacing, and contented.
Writers Brad Watson and Beth Ann Fennelly ponder Clay's dogs and their connections to the Delta, speculating about their role in the drama of everyday life and about their relationships to the humans who share this landscape with them. In a photographer's afterword, Clay writes about discovering the beauty of her native land from within. She finds that the ubiquitous presence of the Delta dog gives scale, life, and sometimes even whimsy and intent to her Mississippi landscape.
Books: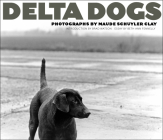 $35.00

ISBN: 9781628460087
Availability: On Our Shelves Now
Published: University Press of Mississippi - June 4th, 2014
---