Tuesday, September 20, 2022 - 5:30pm
**DAVID WHARTON'S BOOK EVENT HAS BEEN POSTPONED UNTIL FURTHER NOTICE.**
A richly nuanced look at the roadside South in all its quirkiness.
Masks Encouraged☺*
If you have questions or concerns about our safety protocols, please email rsvp@squarebooks.com
Can't make it? Reserve your signed copy here. Personalization available.
*please note, as Covid case numbers change, these protocols may too. Thank you for your patience and understanding!
Join Square Books and the UM Center for the Study of Southern Culture in welcoming David Wharton and his recent book of photography Roadside South. Tuesday, September 20th · 5:30 PM CT · Off Square Books
About the Book
Much of the American South, especially its small towns and rural areas, is connected not by interstate highways but through a web-like network of country roads, many of which appear only on the most detailed of maps. These are the backroads that most Southerners drive on every day. Unlike the interstates, whose roadsides have been largely scrubbed clean of regional character, these smaller roads travel through unplanned, vernacular landscapes that tell much about local life, both past and present, and suggest that we make connections between the two.

David Wharton has been traveling throughout the American South since 1999, resulting in his first two books -- Small Town South (2012) and The Power of Belief: Spiritual Landscapes from the Rural South (2016). As he journeyed, he often paused to make pictures of hamlets and the countryside he was driving through that did not fit the themes of those earlier books. These are scenes that speak to a sense of wonderment, or curiosity, about how those landscapes came to be and how they reflect a complex past with a modern-day world in which the urban competes with the rural in nearly every way.

In Roadside South, the third book in Wharton's magical Trilogy of the American South, the photographer captures the quirky and the humorous, the sometimes sad and sometimes ironic scenes that are commonplace along the local, county, and state roads of the South. No artist has revealed the on-the-ground truth of the South as Wharton has, giving rise to a new understanding of and appreciation for a distinctive regional culture that all too frequently, and sometimes mistakenly, is imagined as a bastion of rural and small-town virtue.
About the Author
David Wharton, since 1999, has been Director of Documentary Studies and an assistant professor of Southern studies in the Center for the Study of Southern Culture at the University of Mississippi in Oxford. His photographs have been exhibited throughout the United States, Latin America, and Europe, and he is the author of The Power of Belief: Spiritual Landscapes from the Rural South (George F. Thompson Publishing, 2016) and Small Town South (George F. Thompson Publishing, 2012), which respectively won the 2017 and 2013 Mississippi Institute of Arts and Letters Award in Photography, and The Soul of a Small Texas Town: Photographs, Memories, and History from McDade (University of Oklahoma Press, 2000).
Praise For...
"Wharton's rich visual iconography is festooned with pigs, fake lawn deer, hand-lettered signs, churches, and abandoned vehicles. A singular sense of place forms; Wharton's view of an eclectic rural Southern identity is conveyed with aplomb." - Foreword Reviews
Event address:
Off Square Books
129 Courthouse Square
Books: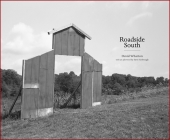 $50.00

ISBN: 9781938086823
Availability: On Our Shelves Now
Published: George F Thompson Publishing - June 6th, 2022
---